Dear Readers:
I'm sort of torn on whether to make this person our "Loser of the Day," or perhaps "Asshole of the Day" .............., or just a plain idiot!
(Newser) – A Russian woman posing for a selfie with (what else?) a loaded gun pointed at her head accidentally pulled the trigger and shot herself in the temple, reports AFP via the
Hindustan Times
. The 21-year-old office worker was apparently using a 9mm handgun that a security guard had left behind.
The story, which originated with Russian news agencies quoting police, adds that she pulled the trigger at work in Moscow on Thursday and was in "serious condition" the next day (although
RT.com
reports that she's in critical condition and wounded herself by firing a bullet that ricocheted off a wall and hit her in the head).
Now police are investigating how the woman was able to get the guard's gun; a police spokesman says the guard left the weapon there two weeks earlier and went away on holiday. "I'm not going to say this has to stop," writes Chris Matyszczyk at
CNET
. "For the simple reason that it won't. ... People will try and take ever more 'creative' selfies and things will go wrong." Examples abound, including a
teen atop a train
and a
crashed airplane pilot and passenger
who all died after snapping selfies. On the lighter side, a senator went
"whole hog to get a pig selfie."
(It's like comedian Ron White always says: "There ain't no cure for stupid!")
-----------------------------------
A man's massage came with a decidedly unhappy ending in Harrisburg, Pa., Saturday: The man says Christina Leach, 27, offered him the massage in his home, then tied him to a bed, poured something flammable on his upper torso, and set him on fire.
No reason was given for the impromptu barbeque!
-------------------------------------------
Lion up a tree: King of the jungle is a scaredy cat in this photo!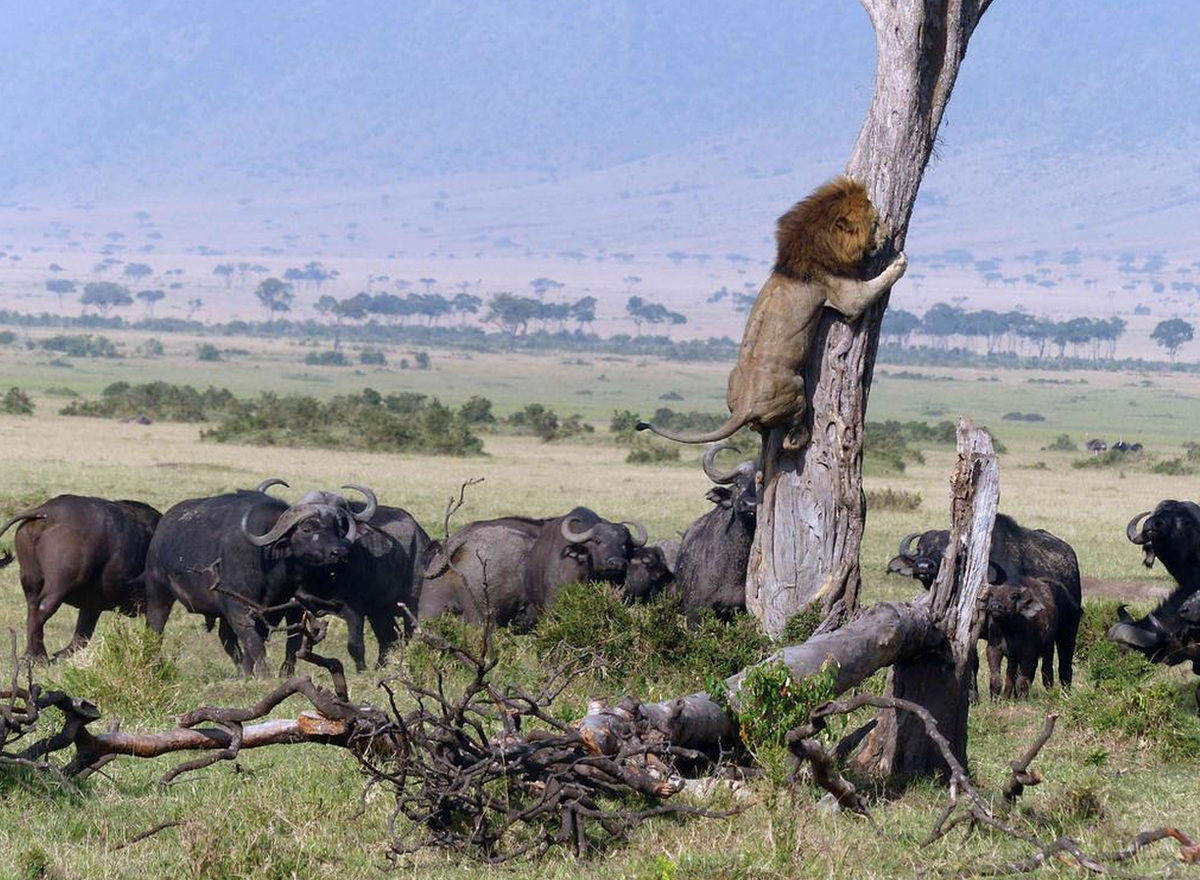 A herd of buffalo apparently protecting a newborn calf drove a lion up a tree, and a man on safari captured the moment in an amazing photo.
The lion ran up a tree and clung to it until it began trembling and sliding down. The big cat was able to leap down and make a run for it, disappearing into the bush.
It was only after the lion fled and the buffalo resumed grazing that the safari group realized there was a newborn in their group.
-------------------------------------
A series of bizarre online videos have emerged of triple-murder suspect Jed Allen, who was being hunted by police after his six-year-old sister, their mother and her partner were found stabbed to death.
Posted to Instagram, each of the clips were filmed by the 21-year-old and show him playing up to camera.
In one, he can be seen driving a car while dancing to the Shaggy song, Mr Boombastic, while others show him drinking coffee and swigging from a bottle of beer.
(Police say
a body discovered in a wooded area in Oxford
is believed to be that of the triple-murder suspect.)
http://news.sky.com/story/1490480/murder-suspects-bizarre-online-videos-emerge
------------------------------------
All in the family:
What are a few bricks between brothers?
Well, they're worth battery charges for twin 52-year-olds after officials say an argument ended with them hurling the projectiles at each other.
The Daytona Beach News-Journal (http://bit.ly/1esczzJ ) reports that Michael and James Remelius were arguing in the front yard of a home last week when Michael first threatened to throw a brick at his brother.
According to a police report, Michael Remelius followed through, striking his brother in the leg and causing a small cut. James Remelius retaliated with a brick that bloodied and bruised his brother's eye.
Both were arrested and charged with aggravated battery with a deadly weapon. Both remained jailed Tuesday. James' bail is $25,000 while Michael's is $20,000. Court records show they do not yet have attorneys to comment on the case
http://www.crescent-news.com/weird%20news/2015/05/27/oh-brother-twins-charged-with-hurling-bricks-at-each-other