Well kids, what a great way to start 2016 ...., with a "Winner of the Day!"
A Syrian refugee who plans to donate a kidney to her ailing Edmonton sister landed in Canada Thursday, months earlier than expected.
Layla Machtoub and her four children's applications for refugee status were fast-tracked in the fall after a local charity informed federal officials that her kidney is a match for her sick sister Janet Machtoub, who has had a failing kidney for 15 years.
Although Janet Machtoub received a kidney transplant from a stranger in 2002, her body eventually rejected the stranger's organ, leaving her feeling ill and forcing her to endure dialysis for the past nine years. Testing in Lebanon suggested her sister Layla is a match.
-------------------------------------
If you live in the Eastern half of the Continent
you probably don't need anyone to tell you that it has been ridiculously warm this month.
Just how warm is illustrated by two eye-popping charts that show there have been more than 20 times as many daily heat records as cold ones this month has seen temperatures an astonishing 10°F (5.5°C) or more above normal.
The month is likely to be the
hottest December on record
for most, if not all, areas to the east of the Mississippi, capping off a year that is virtually a lock to be the world's
hottest on record
.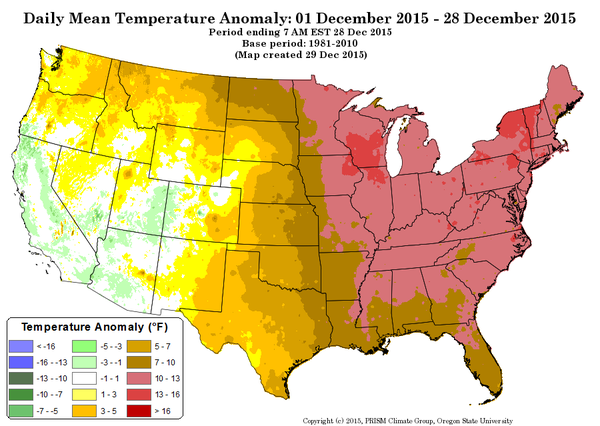 ------------------------------------
In spite of the warmer weather Canadians across the country will ring in the New Year with a frosty tradition that some have called a rite of passage.
Thousands will plunge into icy cold waters for the annual "Polar Bear Swim."
The oldest Polar Bear Club in the country was founded in 1920 in Vancouver, and since then the tradition has spread.
Vancouver's club is still the largest, with more than 2,500 entries in 2014, but a swim just west of Toronto in Oakville, Ont., is expecting 700 to come out this year. The festivities in Vancouver will begin at 12:30 p.m., and the swim starts at 2:30
------------------------------------
MEANWHILE: There has been a heat wave of sorts in the North Pole this week that might even have Santa trading in his sleigh for swim trunks.
Temperatures were as much as 50 degrees above average on Wednesday– almost reaching 32 degrees Fahrenheit in portions of the Arctic Circle that average 20 below zero at this time of year.
Meteorologists and experts at the National Oceanic and Atmospheric Administration blame the strange weather on winter cyclones over the Atlantic near Iceland that pushed warm air far up from the south. Another storm in the Arctic north of Greenland - helped by low-pressure system that also produced blizzards in New Mexico, tornadoes in Texas and flooding in Missouri - was also to blame.
----------------------------------