Dear Readers: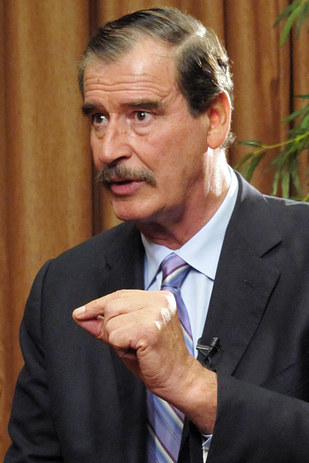 Ever since your humble reporter compared Donald Trump to Adolf Hitler a few weeks ago it seems everybody is jumping on the bandwagon!
The latest is former Mexican President Vicente Fox who said Friday that Donald Trump reminds him of Adolf Hitler.
Fox, who was president of Mexico from 2000 to 2006, made the comments during a televised interview with Anderson Cooper on CNN.
----------------------------------------
Well if they can do it down there ......, why not do it up here:
"Kevin O'Leary eyes run for Conservative leadership!"
It would be easy to dismiss the Toronto businessman-turned-reality TV star's position as pure posturing – a chance to promote his new show, perhaps, or sell a couple of books. But seeing it solely as a self-promotional exercise would be a mistake. In an era of Rob Ford populism and Donald Trump's rise, brash figures such as Mr. O'Leary, who rose to fame on CBC's Dragons' Den, have suddenly become serious contenders in the modern political landscape.
Like other potential leadership contenders, Mr. O'Leary hasn't officially declared his candidacy for any party – and it's not certain he ever will. But he's keenly aware of his chances. He points to a recent poll that suggests he is the top choice for Tory leadership out west, and statistically tied with former cabinet minister Peter MacKay in the east.
http://www.theglobeandmail.com/news/politics/kevin-oleary-eyes-run-for-conservative-leadership/article28937824/?cmpid=rss1
-------------------------------------------
A man who beheaded a fellow passenger on a Greyhound bus in Manitoba has won the right to eventually live on his own. A Criminal Code Review Board has approved a plan that would allow Vince Li to at some point move out of the group home where he now lives.
Li - who has changed his name to Will Baker - killed Tim McLean during a bus trip along the Trans Canada Highway near Portage la Prairie in July 2008. He was found to be not criminally responsible for the murder due to a mental illness - schizophrenia.
In spite of this new development, Greyhound bus lines said it will continue to impose a lifetime ban on Vince traveling on any of its buses ......, EVER!
---------------------------------------
If you've ever wondered just how much influence a supreme Court justice can have down in the United States, get a load of this article from the Huffington Post:
Dow Chemical Co., one of America's largest chemical manufacturers, agreed on Friday to settle a price-fixing lawsuit for $835 million in the wake of Justice Antonin Scalia's death.
The company had challenged a $1 billion judgment in a high-stakes, class-action case. But without Scalia, it appears the new reality at the high court was too big a gamble for the company to continue with the litigation.
"Growing political uncertainties due to recent events within the Supreme Court and increased likelihood for unfavorable outcomes for business involved in class action suits have changed Dow's risk assessment of the situation," the company said in a statement.
Dow said a case the Supreme Court heard last year but hasn't yet decided, Tyson Foods v. Bouaphakeo, was the reason its own case was still on hold at the court. Both cases present common questions of law that may limit class-action liability -- an area where the Supreme Court of late has been friendly to business interests.
Stunningly, Dow's statement singled out two major cases in which Scalia wrote the majority opinions -- 2011's Wal-Mart v. Dukes and 2013's Comcast v. Behrend -- essentially conceding that, without Scalia, the company no longer had any prospects of winning. Both of those cases were decided 5 to 4, with conservatives ruling for the corporations.
http://www.huffingtonpost.com/entry/antonin-scalia-dow-chemical_us_56d0d4bfe4b03260bf76efa4?ir=Politics&section=us_politics
--------------------------------
Yoko Ono was hospitalized in New York City for flu-like symptoms, but is on the mend and the 83-year-old artist-singer should be released this weekend, her representative said.
Ono went to the hospital on the advice of her doctor, and media reports that she had had a stroke were not true, Elliott Mintz told The Associated Press on Friday.
Ono is the widow of John Lennon of the Beatles. The couple's son, Sean Ono Lennon, also tamped down reports of a stroke. He said on Twitter that his mother was dehydrated and tired. "The only stroke Yoko had was a Stroke of Genius! ... She's really fine," he tweeted. "Thanks for all the well wishes!"
MEANWHILE, hospital officials have placed Yoko in an isolation ward after she insisted on "singing for her supper!"
I know exactly how they feel: Your humble reporter once saw Yoko perform at the Toronto Rock and Roll Revival back in 1969 when she sat on stage for a half an hour in a potato sack and screamed into a microphone! Then she stood up and gave us THIS gem! (And you wonder why everybody hates her?)
---------------------------------------------
A fierce debate is playing out in America's State Capitals throughout the country over which bathrooms and locker rooms transgender students in public schools should use.
South Dakota Gov. Dennis Daugaard faces a deadline next week to act on a bill passed by the state legislature that would require students to use bathrooms or locker rooms for the gender that corresponds with their "chromosomes and anatomy" at birth, in what would be the first-of-its kind law in the country.
(I hate to tell them, but Eric Cartman had this all figured out on 'South Park!')