Dear Readers:
It was another grim long weekend on our highways the past few days.
Do me a favour and read this very carefully!
The death of a motorcycle driver in a moose-related collision has prompted a call for fencing to be installed along New Brunswick's Route 10. A 53-year-old man was pronounced dead over the weekend following an incident that started with two moose wandering onto the road on Canada Day. Police say the motorcyclist struck the moose and was thrown from his vehicle. A police officer in an unmarked vehicle happened upon the scene a short while later, and officials say the underside of the officer's car made contact with the injured motorcyclist.
So, if I got this straight, the guy on the motorcycle hit a moose and was lying on the road when a cop came along
and ran
over him !!!
The weird thing about this is that they're still blaming the MOOSE!
-------------------------------
Even camping is not safe anymore:
Alberta RCMP say they are not considering criminal charges against a man who accidentally killed his son on a camp trip. Mounties say the man and his family had just set up their trailer at the Castleing Falls campground near Pincher Creek, south of Calgary, on Thursday night. The man was moving a vehicle when he mistakenly drove over the boy.
(Police say alcohol was not a factor.)
----------------------------------------
Then there's always the danger of road-rage, or in this case we might say "mall-rage!"
A 25-year-old man is facing a second-degree murder charge after a man was bounced off the hood of a vehicle during a dispute in a big-box store parking lot in Midland, Ont., over the weekend.
Police were called to a report of a pedestrian struck by a vehicle in a parking lot on Highway 12 in Midland, a town on Georgian Bay in Simcoe County.
Two men got into a fight shortly before 2 p.m. Saturday, with one of the men was struck by the other's car, OPP Det.-Insp. Martin Graham said Sunday.
Investigators aren't sure what sparked the dispute, but alcohol was not involved, Graham said.
-------------------------------
MEANWHILE: Alcohol was involved, but Texas State student Tara Monroe is the antihero we deserve.
Tara Monroe, an industrial engineering junior, said her license was automatically suspended after refusing a breathalyzer test after a Waka Flocka concert. Her father drove to San Marcos from Kingwood, her hometown, to strip her of her vehicle, leaving her with a bike to get around. "Riding a bike around campus sucks," she said: "Like really sucks."
SO WHAT TO DO?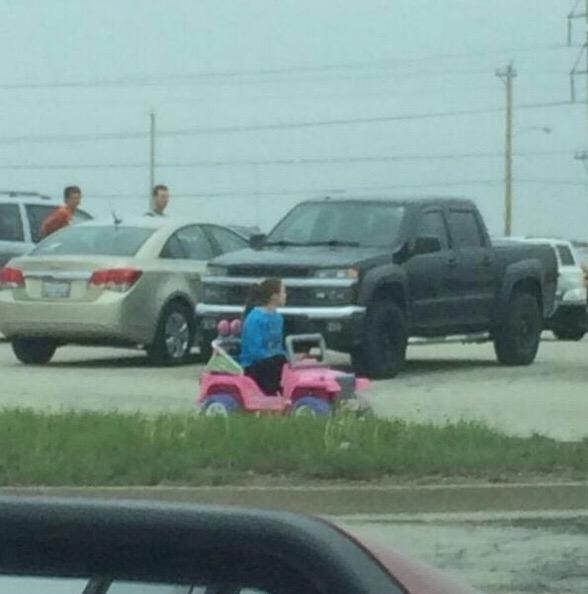 .
-------------------------------------------
Toronto's Pearson Airport could hit the market as the Federal governments looks into selling off major airports in order to fund other infrastructure projects, reports the
Toronto Star today
.
.Officials are talking about holding an "Open House" sometime next month!
(Alcohol was involved.)
-----------------------------------------
While we're on the subject of cops!!!!
When I was a 17 year old kid I spent Friday night of Labour Day weekend in the Pickering cop-shop jail for drinking under age (among other stuff) ....., so I sort of know where and how this story took place:
PICKERING, Ont. -- A 37-year-old man is under arrest after a flaming bag of clothing was thrown over the front desk at police station east of Toronto.
Durham Regional Police say a man entered the station in Pickering, Ont., on Saturday evening carrying a plastic bag with clothes inside.
They say he then set the bag on fire and threw it over the front desk and into the administrative area, where both officers and civilians were working.
The man fled the scene and was chased down by officers, who detained him under the Mental Health Act. No one was injured in the incident. (On a side note, the cops never took our stuff away while we sat in jail, so one of the other guys who was in there with me found out he had a key that would unlock the cell door ....., and the outside door at the end of the hall was wide open because it was a warm night. We got as far as the open door at the end of the hall, but then chickened out of making an escape because of the possible repercussions for escaping custody! [The cops knew all of us so we wouldn't have been free for long.] I then spent Saturday night at the Whitby county jail before getting sprung and then going to court on Tuesday ...., morning and having all the charges thrown out! The cops didn't really want us since they were after an older guy with us named Vinny, who ended up having the book thrown at him and spending 90 days in the county jail!)
http://www.ctvnews.ca/canada/man-facing-charge-after-flaming-bag-thrown-over-police-station-front-desk-1.2972432
-------------------------------------
AND FINALLY:
Real life ain't like what ya see in the movies, bunky.
Remember when Clint Eastwood shot the rope off a guy that was being hung. (Eli Wallach - The Good, The Bad and the ugly!)
Well it ain't that easy out on the range when wildlife officials spotted a bald eagle that got tangled up in a piece of rope, and was hanging upside down about 70 feet up in a tree!
Enter a war vet who was a sharp-shooter and because of the wind and over 100 foot distance took about 150 shots to get the bird down. (The bird wasn't hit, and NO, alcohol was not involved!)