Do ya remember that Canadian Robot that hitchhiked across Canada last year?
(It was a social experiment, and the tiny robot went all the way across Canada, and then Europe, with the help of friendly people along the way!)
PHOTOS | HitchBOT completes journey across Canada
BUT, NOT SO MUCH WHEN THEY TRIED THIS EXPERIMENT IN THE UNITED STATES, KIDS. -Ed
First it couldn't get a ride out of New York City, and then they put it in Philadelphia instead!
The friendly Canadian hitchhiking robot
met its untimely end on the hard streets of Philadelphia.
,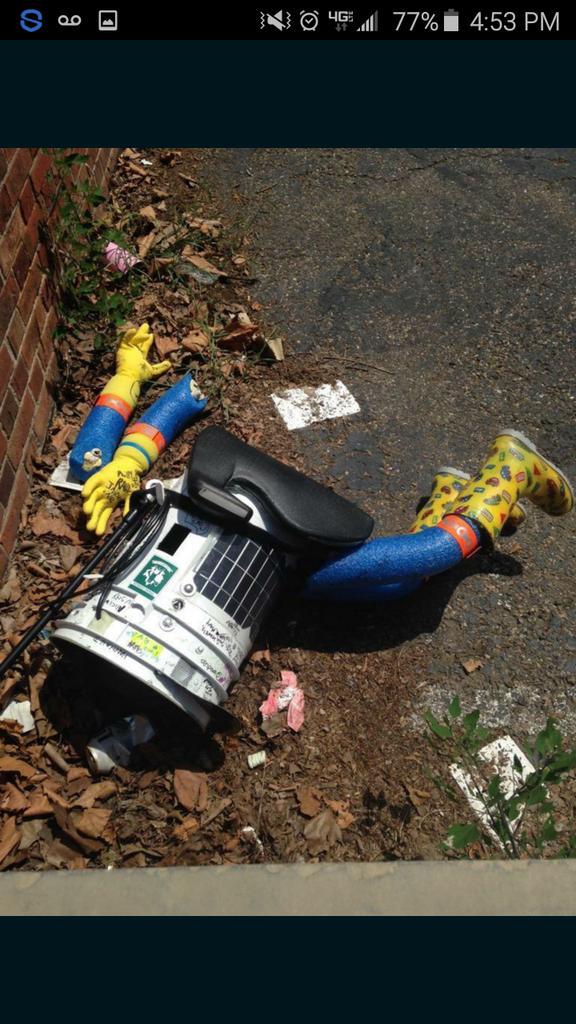 But it might be given another chance at life!
HitchBOT's co-creators say there have been offers of support and offers to revive the child-sized robot since it was destroyed early Saturday .........., and they are considering rebuilding it.
hitchhiking adventure in the U.S
. after successful ventures in
Canada
last year and
parts of Europe
that saw strangers help hitchBOT travel from place to place while checking items off its bucket list.
This time, hitchBOT
was dismembered before it could complete its goals
— which this time included taking a selfie with the Hollywood sign and seeing the house from Pixar's "Up."
A photo reportedly showing what was left of the destroyed robot was posted on Twitter on Saturday night.

------------------------------------
Franke Zeller of Ryerson University and David Smith of McMaster University created hitchBOT and kept its adventures going as a social experiment with a number of their students.
Zeller said many people have reached out with offers to rebuild hitchBOT, and her team will make a decision on whether or not they will bring the robot back to life in coming days.
© The Canadian Press, 2015
HitchBOT starting his journey!